We would like to extend an invitation to members of medieval societies or associations who shoot with the longbow to participate in
the Colchester Medieval Festival's

"Archer of the Fayre"

A main attraction of the Colchester Medieval Festival &
Oyster Fayre Market will be this Longbow Archery competition.
This event is intended to show the true skill of the longbow archer.

The competition is open to all competent archers, both male and female, who wish to take part. However, only traditional longbows are allowed (no flat bows or recurves), and all competitors must be
members of recognised groups and must wear clothing of the
14th to16th century whilst shooting, including headgear.
Only arrows with wooden shafts and feather fletching are allowed.
Each archer will need 20 arrows with field pile heads,
no battle heads or plastic knocks, & six blunts for the bell shoot.

The Targets are a collection of field, range and speed shoots.
Some over a variety of distances & terrains.

The Competition takes place over both days.
Prizes will be awarded at the end of the second day.
There will be the Archer of the Fayre Trophy
for the best accumulated score.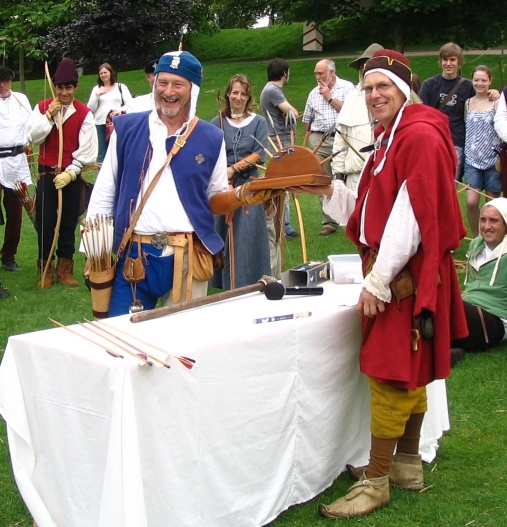 Archer of the Fayre 2007 - Mick Bailey
There are always a number of other prizes,
in a variety of categories, for competitors in the event.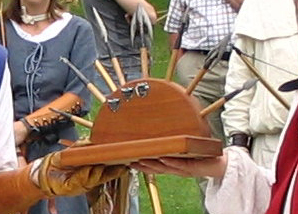 The 'Archer of the Fayre' Trophy

Also, at the end of the day on Sunday, there will be an
open invitation, to all costumed participants at the Fayre,
to shoot for purse prizes donated by traders.
There is a registration fee of £12 per archer for the
main competition. Purse shoot is free to all participants.
Each group may enter a number of archers,
and all 40 entries will be on a first apply, first accepted basis.
Just turning up on the day will not permit you a shoot.
Public liability insurance will be extended to all archers who can
show that they are members of recognised re-enactment groups,
and that they are competent with the bow.
We reserve the right to refuse participation to those individuals
who do not meet the above conditions, or who, in the opinion
of the Organisers, are unsafe or not in a fit state to shoot.
This is a condition of the insurance cover taken out by the
Organisers, and we apologise to those whom it may disappoint.
The Medieval Festival also features trade demonstrators,
entertainers, traders, caterers, beer tent,
and camping space for medieval and modern tents.
So why not come along and lend your support to those taking part?
If any members of your group would be interested in assisting us to marshal or score the shoots, we would be delighted to hear from them.
Please return the printable booking form with the names of
the archers who wish to take part. We will reply to confirm a place.
We would not like to disappoint anyone because of a late application.
Cheques with application please, Made payable to:
The Colchester Town Watch
we will e-mail a receipt & confirmation on receipt of cheques.
Ted Lloyd
Grand Marshal
The Colchester Medieval Festival