The Medieval Festival
Colchester's first History Fayre of the modern era took place in 1989, and commemorated the 800th anniversary of the granting of
a Royal Charter to the town in 1189. Since then our Medieval
Fayres have become a tradition, and are now famous as
major public events in the Eastern Counties.
The first Oyster Fayre, as an annual, event was in 2003.
This has now grown so big that we feel that we can call it
The Colchester Medieval Festival & Oyster Fayre Market.
Each June will stage a full medieval style fair,
with many of the peripheral activities that this major annual event
of the period would have offered. It remembers a time when folk
from the countryside and neighbouring villages
would travel to the 'Big Fair' in the town.
We set our fair in the period 15th to 16th century.
We are not be able to offer the traditional street fair in the town,
due to the limitations of the High Street, so we
gather together on Lower Castle Park all the colour and activities
of an historic, traditional country fair that we can muster.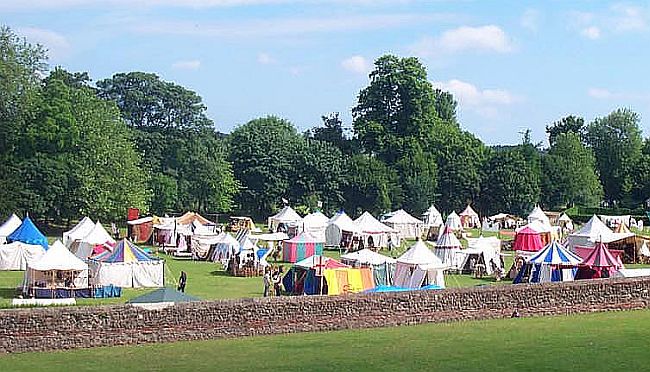 Crucial to such a past gathering would have been the Market.
Here we show avenues of stalls selling
anything from a pin to a full suit of armour.
A great many pitches using authentic tentage or booths.
Each trader will have been carefully chosen, so that only true merchandise suitable for the traditional market is provided. Maybe
a great wheel for spinning, or linen for making clothes, new bowls for cooking, or leather to repair shoes. All will be there and on sale.
Perishable goods such as grain, fruit, vegetables and meat would normally have been purchased at weekly markets, so should not
be expected at the Oyster Fayre.
Of course no fair is complete without side-shows.
We hope to have a good variety of fair games for all to play,
some with prizes, so roll up and 'Splat the rat'.
---
At the Festival there will be no display of
massed troops, but instead, a tourney ring or combat area.
Here we can stage hand-to-hand armed combat,
demonstrating the use of various weapons and armour,
with a referee to ensure that things don't get out of hand.
Visitors will have the opportunity to try on armour
and feel the weapons, such as bill and poleaxe, at first hand.
The true weight of a mail shirt never ceases to amaze the public.
---
Everyone went to the fair, and let's face it, there were not many other opportunities for entertainment and socializing in those meaner times. So, expect to see some strange fellows or hear unfamiliar cries,
a wandering trader may ask you to stand awhile as he shows his wares or tells a tale or two.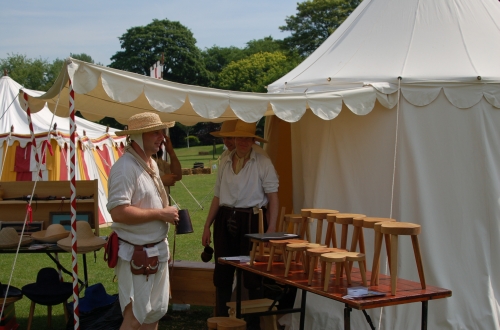 Dance and drama would have been popular entertainment at fairs.
The public will be invited to participate in the simpler dances,
with instruction in the trickier ones available. An area for players will be assigned where Mummers can perform their plays. There will be other performing areas where individuals can story-tell
or recite poems, and players can show dramatic interludes.
Here again we may have singers, jugglers, tumblers and stilt walkers.
For the young ones, and the young at heart, there will be
puppet masters plying their trade, and, I dare say,
shaking a hat for a grote or two.
---
Archery was all-important. Until the middle of the C16th it was
the main weapon of combat and also of sport. All men of fighting age were expected to practice at the butts, once a week, usually after church on Sunday. So a 'close' will be set up, with butts for practice
and competition. Here again the public will have the opportunity
to 'have a go'. Demonstrators and instructors will be on hand
to ensure a safe representation of this aspect of medieval life.
Skilled archers, from far and wide, will be invited to take part in
a Costumed competition. This will feature various targets throughout the grounds, in areas of increasing difficulty,
including river shoots, mock animals, hanging and purse targets.
'Archer of the Fayre' will be their reward, and also a prize or two.
Archery was the sport for the common man, whilst Falconry
was that of the Gentry classes. We will endeavour to display
this side of medieval life too, by the flying of hawks in the arena.
Not only will there be two flying demonstrations a day,
but the birds will be on show in the hunting Pavilion,
for all to view and maybe even handle.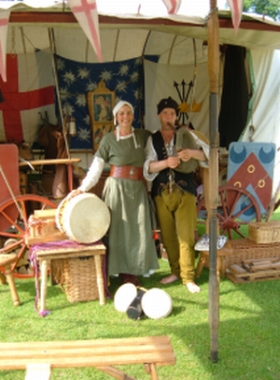 No fair is complete without those who have travelled miles to be there. We will see many costumed individuals mingling with the C 21st public at the stalls and side shows. Some will be invited, some will come out of interest or to buy those vital pieces of kit, and we expect
that a few locals may even wish to dress up.
We will also invite re-enactors, who specialize in
Living History, to set up small encampments and go about their
daily routine.
Certainly outsiders would have slept in their carts
and stalls, and a bustling community of travellers and traders
would have established its camp for the duration of the fair.
Some will be cooking, some gaming, and some just practising good old creative idleness. Some tents will be open for the curious to inspect, but remember to keep your hands to yourself lest you be caught by the Fayre Constable or his patrolling Henchmen.
Tradesmen and demonstrators will be on hand. Adjacent to their market stalls they can show their art and skills in industries such as pottery, spinning, rope-making, candle dipping, tailoring, sword making, fletching and bow making, to name but a few. Maybe the public will be able to buy from the artisans, or just marvel at their dexterity.
To service such a productive and consuming fair, we will require food, drink and supplies 'many and various'. We will also have set up
a tented tavern, where fine ales and mead can be purchased
by all attending the fair.
Food must needs be available, and we shall of course have to resign ourselves to modern standards of presentation at the fair, but we will attempt to conceal what would be otherwise anachronistic.
We shall have plenty of modern food outlets for the visitors' pleasure outside the fair perimeter, but cooking will be on show
and maybe pie and biscot sellers roaming. And or course Oysters.
Finally, to feed the soul, lots of music. Strolling musicians and players will always be in evidence. Be it loud or soft, you will never be far from the pipe or drum.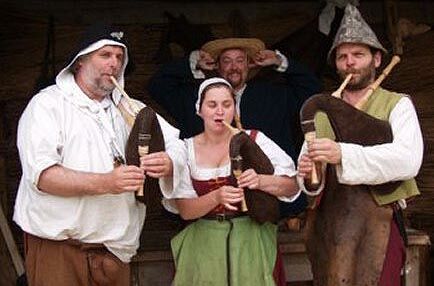 We hope that the fair will attract re-enactors from far and wide, not only wanting to participate in this unique experiment, but also just visiting and adding to the colour and atmosphere. Maybe they will purchase treasured items not seen elsewhere, or just say 'I was at Colchester'. Visitors regularly come from across the UK and near Continent.
Here is an opportunity to bring together the best historical interpreters, & Medieval artisans to probably the best fair and market anywhere in Britain. Help to make it a special weekend.
Join us in June and you too can be part of this exciting event:
The annual Colchester Medieval Festival
Elements of the Fayre may change or be added to without prior notice.