The Medieval Market
Read the Traders Invitation


The Historic Traders' Market is again being organised and
run by House of Mysteries Ltd.

All enquires for stalls and pitches should be directed to: merchants@oysterfayre.co.uk
rather than to the information address:
news@oysterfayre address.
We are looking for Traders and Artisans who have artefacts for sale, tentage to sell it from, and clothes to wear, from a period
no later than 1600, and no earlier than 1400.

We expect all traders in the medieval Market to trade from
an authentic looking stall, booth or pavillion. A photograph
of your stall would be appreciated from new traders.
We may have a few spaces available in a row of modern
tents for those without a trading tent of their own.
There is no condition as to what may be sold, save to say that
it should fall into the above period. We will of course not allow
any edged blades or weapons to be sold to young people
who do not have proof of members of recognised historic groups.

We are more than happy for you to work on your wares or
demonstrate your trade at your stall.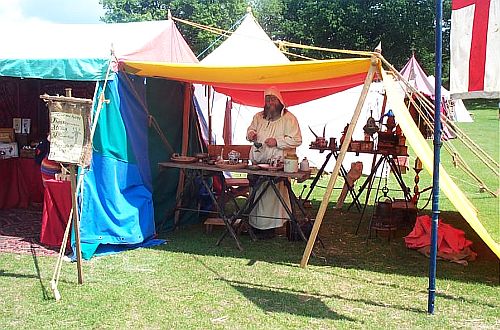 Traders vehicles will be parked in a secure area where those with modern camping arrangements may also pitch their tent or van.